COVID Protocol
Please do not come to class if you are feeling ill or have been exposed to people in your life who are sick. Please contact alecks@foxhavenfarm.org so we can discuss how to handle your absence.
With the new variant spreading rapidly, we ask all participants to wear a mask both indoors and outdoors. Please do your best to keep 6 feet social distance at all times. If you learn that you have COVID within 5 days after class, we ask that your please notify us so that we can inform participants about a possible exposure. 
---
Beekeeping Basics & Hive Tour SOLD OUT
May 16, 2021 @ 10:00 am

-

12:00 pm
Enjoy a presentation led by our beekeeper, Taylor Roman. Learn about the amazing biology and behavior of honey bees, how honey is made, and the importance of all bees and other pollinators in the production of food. This class can is geared towards anyone interested in the amazing world of honey bees! Weather permitting, a hive opening tour of our apiary is included. Participants are welcome to pack a picnic to enjoy on the land before or after class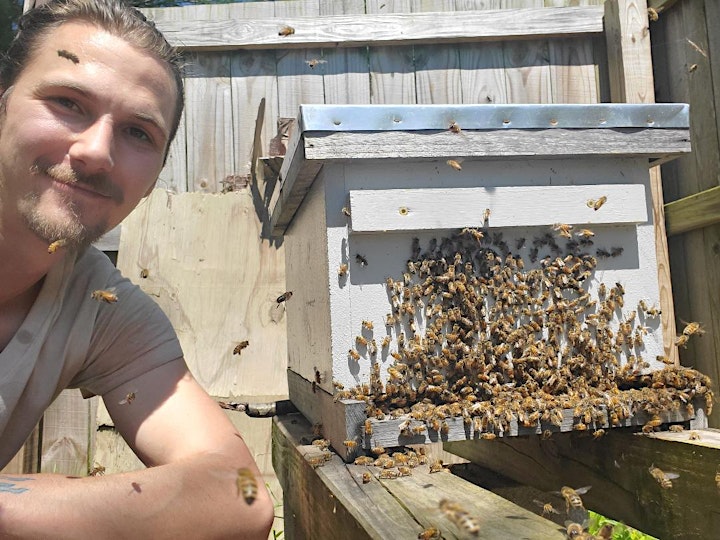 About the Speaker
Taylor Roman: Fox Haven Orchardist, Beekeeper, Teacher, Caretaker
Taylor grew up in Frederick, where his years exploring the woodlands around Lake Linganore established a lifelong passion for understanding nature and its complex systems. He studied environmental education and ecology in college, while working with community organizations in Baltimore to create and sustain gardens and green spaces in the city. He has worked throughout Maryland as a farmer, gardener, master naturalist, and environmental educator for the last 8 years, gaining diverse skills, from mechanical repair to beekeeping. Taylor's passion for nature education is centered around experiential learning and he is passionate about Fox Haven as a place where people can connect to the natural world through direct, intimate experiences.
Refund Policy
All class ticket sales are considered a donation to Fox Haven and help us to fulfill our mission. Full refunds (minus a 20% processing fee) will be given to any participant canceling at least 30 days prior to the scheduled class date. Due to the nature of full series commitments, no refunds will be processed once the series has started.
Enrollment cannot be transferred to another class. If you are within the 30-day cancellation period, it is best to request a refund and sign up for the desired replacement.
About LandBack Tax
Beginning in 2022, Fox Haven will pay $2 from every ticket sale to the Piscataway Land Trust as a LandBack tax for the land Fox Haven inhabits. Land taxes to indigenous nations function similarly to paying rent or a home mortgage. Payments such as a mortgage provide access to living space, whereas LandBack taxes recognize our access to stolen Indigenous land.
The Piscataway Land Trust is a long-term Indigenous-led effort led by the 501(c)(3) Cedarville Band of Piscataway Indians Inc. to restore and rematriate ancestral land and sovereignty in the Chesapeake region to Piscataway and other Chesapeake Indigenous people. To learn more or pay land tax, visit: https://www.piscatawayindians.com/projects