COVID Protocol
Please do not come to class if you are feeling ill or have been exposed to others who are sick. Please contact alecks@foxhavenfarm.org so we can discuss how to handle your absence.
Masks are optional during all events. If you learn that you have COVID within 5 days after class, we ask that you please notify us so that we can inform participants about possible exposure.
---
Fox Haven's Art Show & Garden Party Fundraiser
September 23 @ 3:00 pm

-

6:00 pm
Fox Haven's Art Show Fundraiser is an experience that's part fundraiser, part garden party complete with tours, herbal cocktails, art bidding, and more!
Join in this extraordinary experience that blends art, nature, and community!
-Sip on refreshing herbal cocktails as you immerse yourself in the beauty of the garden.
-Take a guided garden tour and uncover the secrets of this serene sanctuary.
-Wander through a treasure trove of breathtaking artworks.
Regional artists are excited to offer beautiful works to the public through a silent auction, providing seasoned art collectors and newcomers alike with the excellent opportunity to acquire high-quality, original paintings, photographs, sculptures, ceramics, and prints. Participants can go home with a work of art valued anywhere from $200 to upwards of thousands of dollars.
Something else to feel good about: all proceeds go to benefit Fox Haven's land conservation efforts and farm-based educational programs for children and adults.
Viewing hours will take place: Thursday, September 21st from 2-4 pm and Friday, September 22nd from 5-7 pm in Fox Haven's Dairy Parlor
The auction will take place on September 23rd from 3 -6 pm.
TICKET PRICE INCLUDES A COMPLIMENTARY GARDEN TOUR & COCKTAIL
The auction will take place on September 23rd from 3-6 pm. Ticket holders must be present to claim their artwork.
All bids must be placed by 5:15 pm.
YOUR PARTICIPATION IN THE AUCTION CREATES OPPORTUNITIES YOU CAN FEEL GOOD ABOUT!
At Fox Haven, we inspire a deep sense of wonder and joy in the pursuit of a healthier planet. Our mission is evident through our commitment to land stewardship, regenerative farming, education, innovative research, citizen science, and community engagement.
We diligently care for our land, nurturing diverse life forms and safeguarding the watershed. Through regenerative farming, we cultivate an herb garden, a holistic orchard with beehives, and surrounding wild spaces as a way to model sustainable systems. Education is at our core. We offer nature-based programs for all ages while pioneering research and citizen science projects showcase our commitment to innovation.
Pictured below are a few pieces that will be on display and available for bidding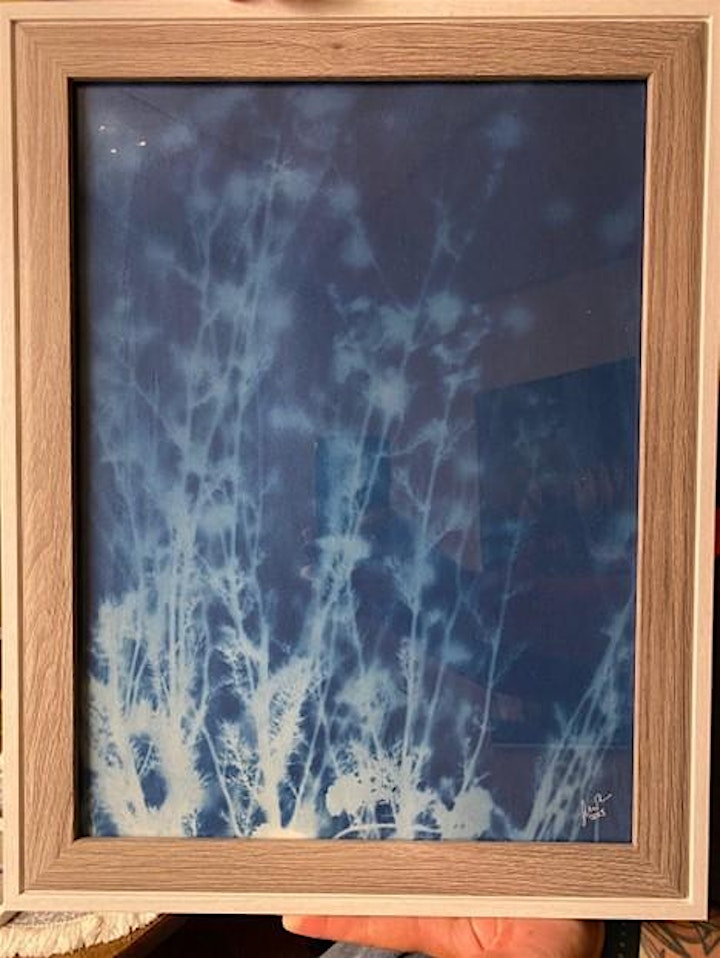 Jillian MacMaster
Title: "Oceanic' Cyanotype on Water Paper
12″ x 16″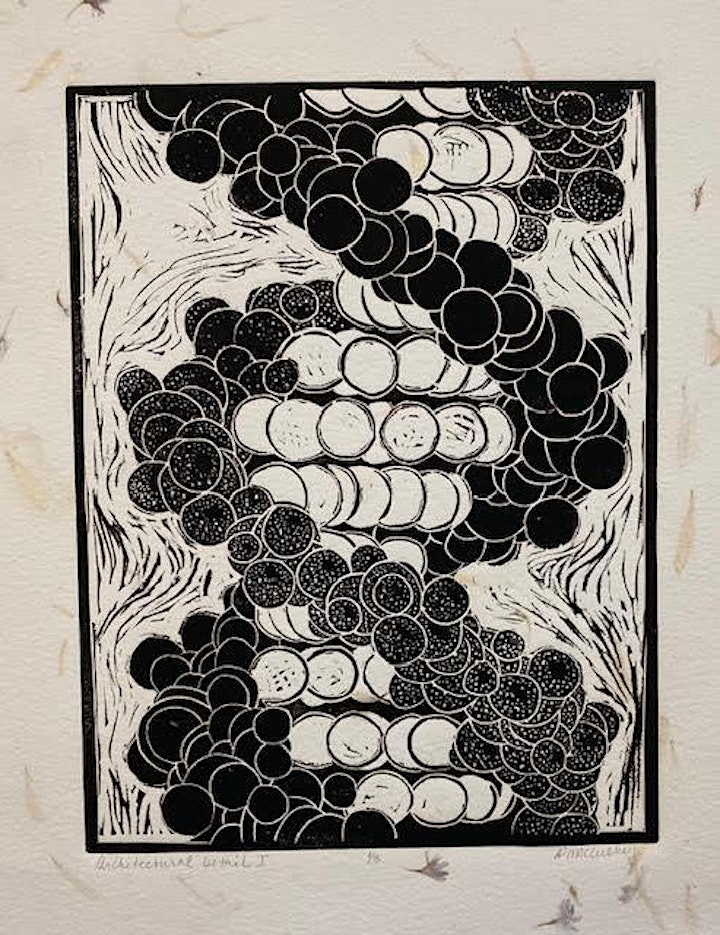 Andrea McClusky
Title: Architectural Detail
Medium: Linocut on Floral Paper
15″ x 22″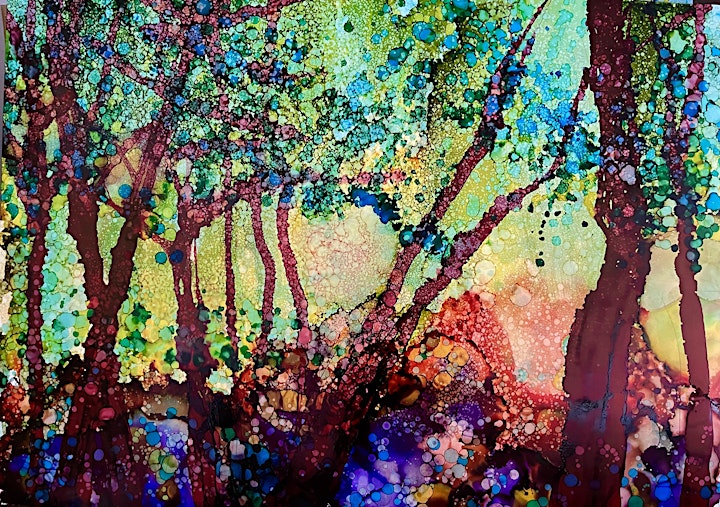 Lisa Sheirer
Alcohol Ink Painting on Yupo
36×26 framed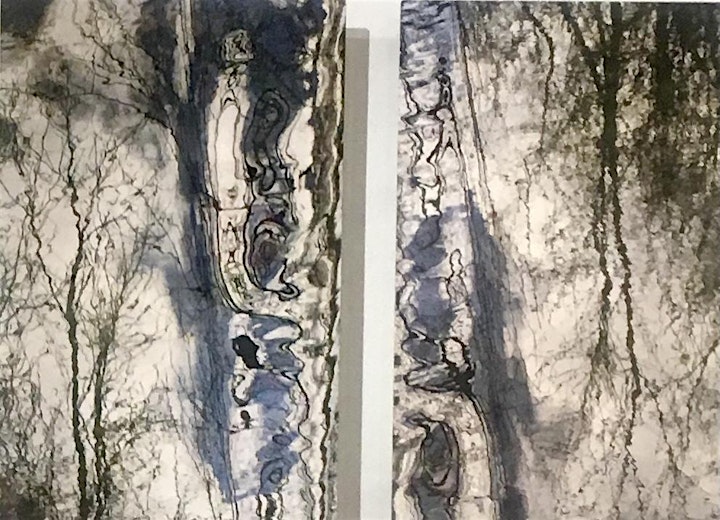 "Sunny Day Water Reflection" Diptych
Digital photography on Metal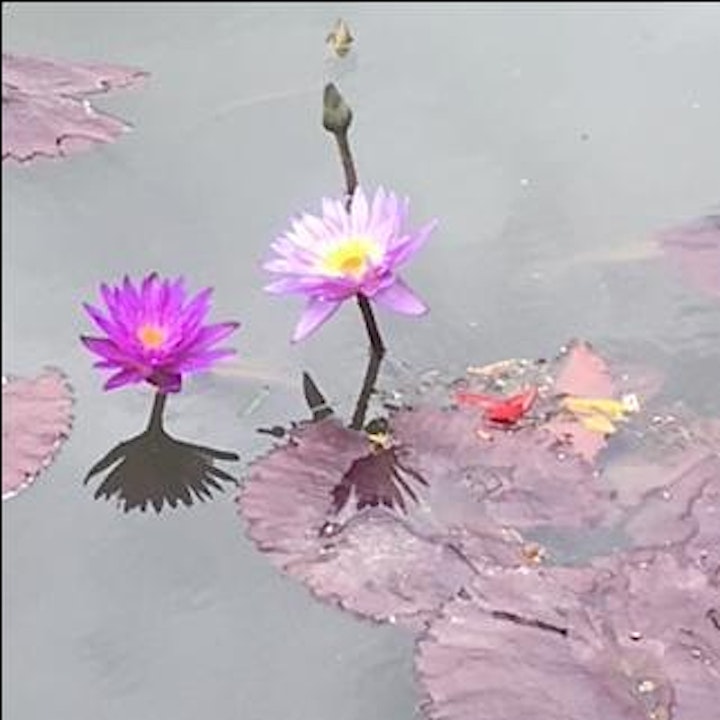 "Water Lily Delight"
Digital photo on Metal
6″ x 20″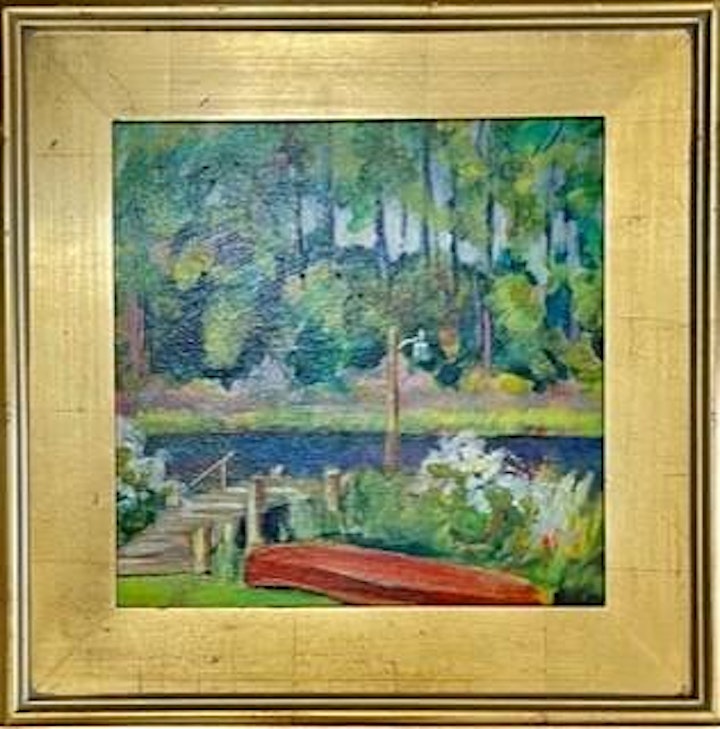 Connie Schlee
"By the Dock"
Acrylic, 18″ x18″ framed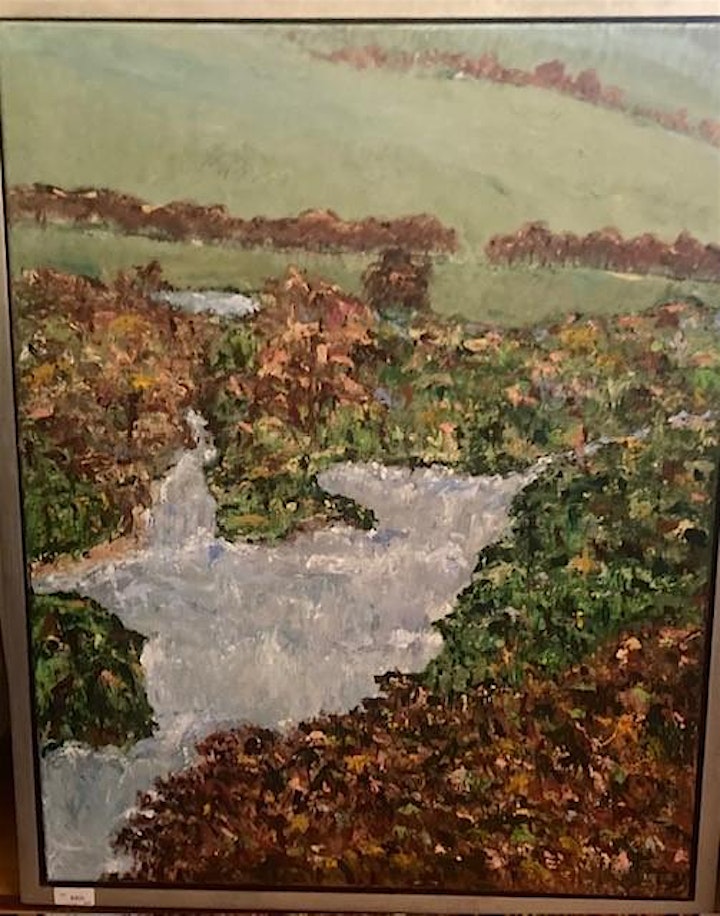 MARY Paul Barnaby
"The Murray" (the longest river in Australia)
Acrylic framed, 26″ x 32″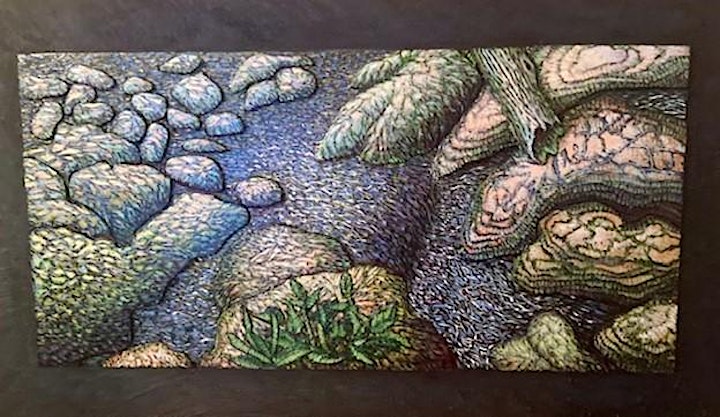 Douglas Moulden
"Landscape Under Foot"
Acrylic and Wood, 21″ x 36″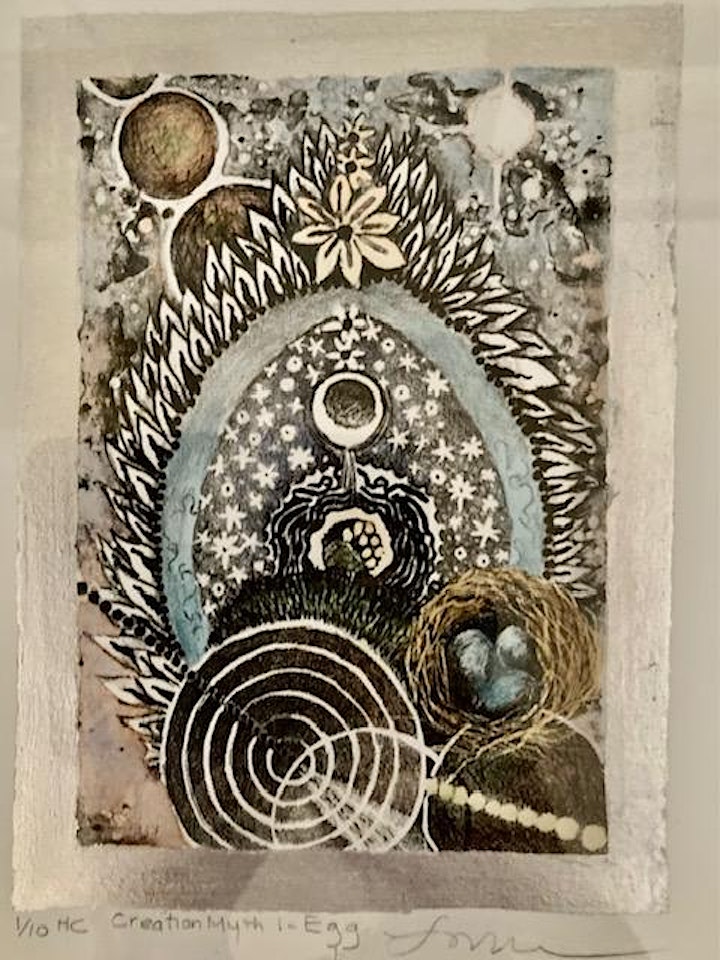 Lisa Tayerle
"Creation Myth1-Egg
Hand Colored Lithograph, 13 1/2″ x 17″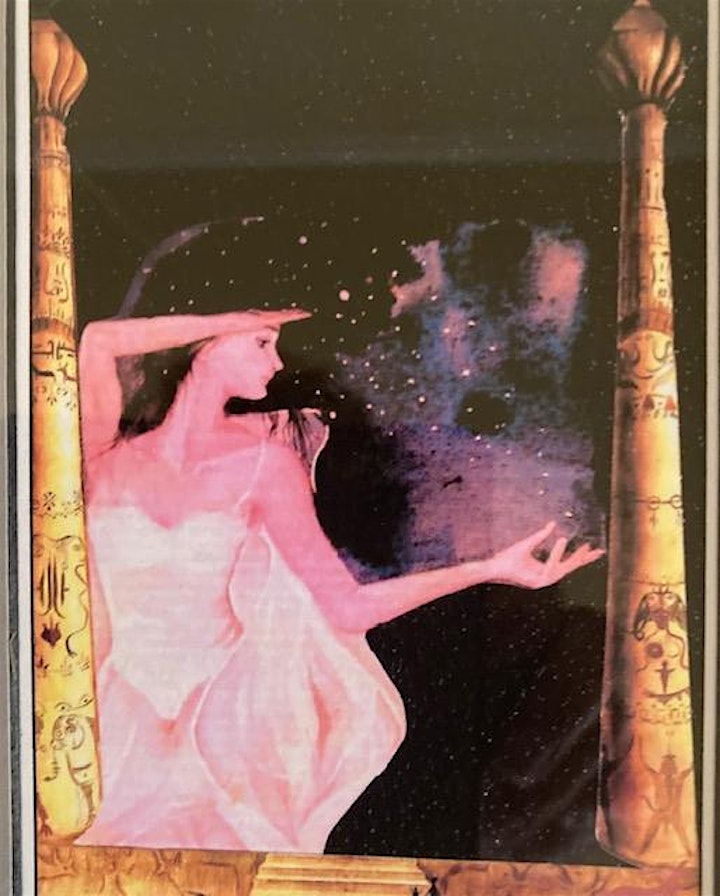 Cynthia Scott
"The Magician"
Print of original, 10″ x 12″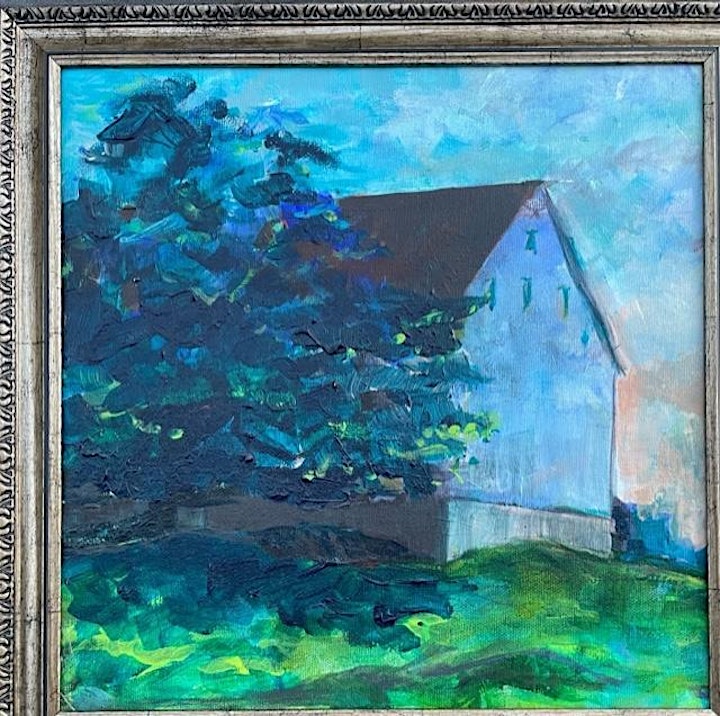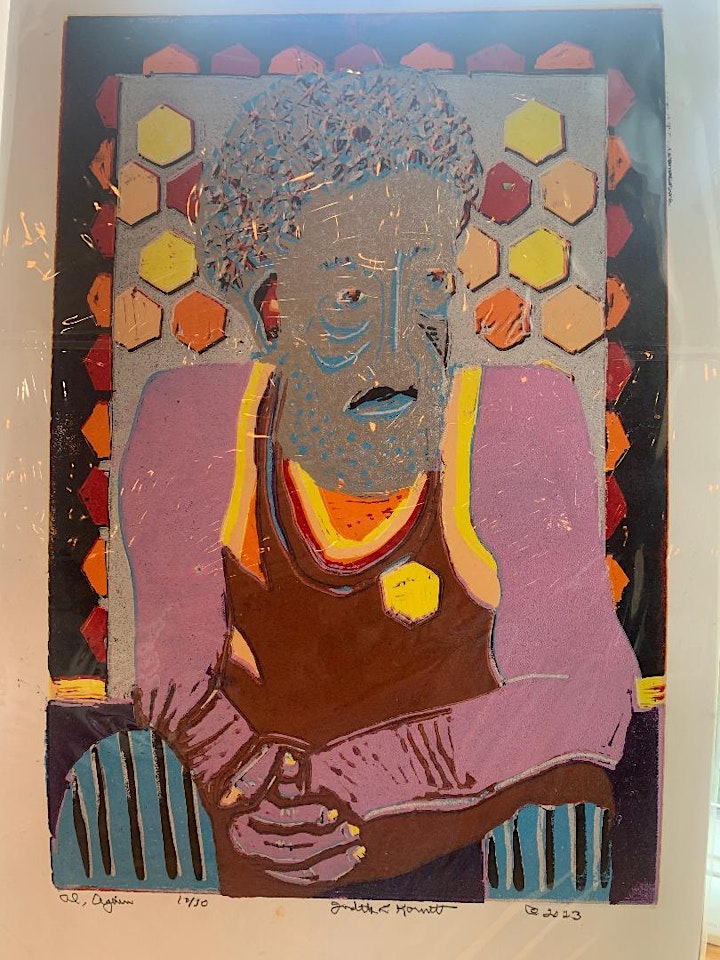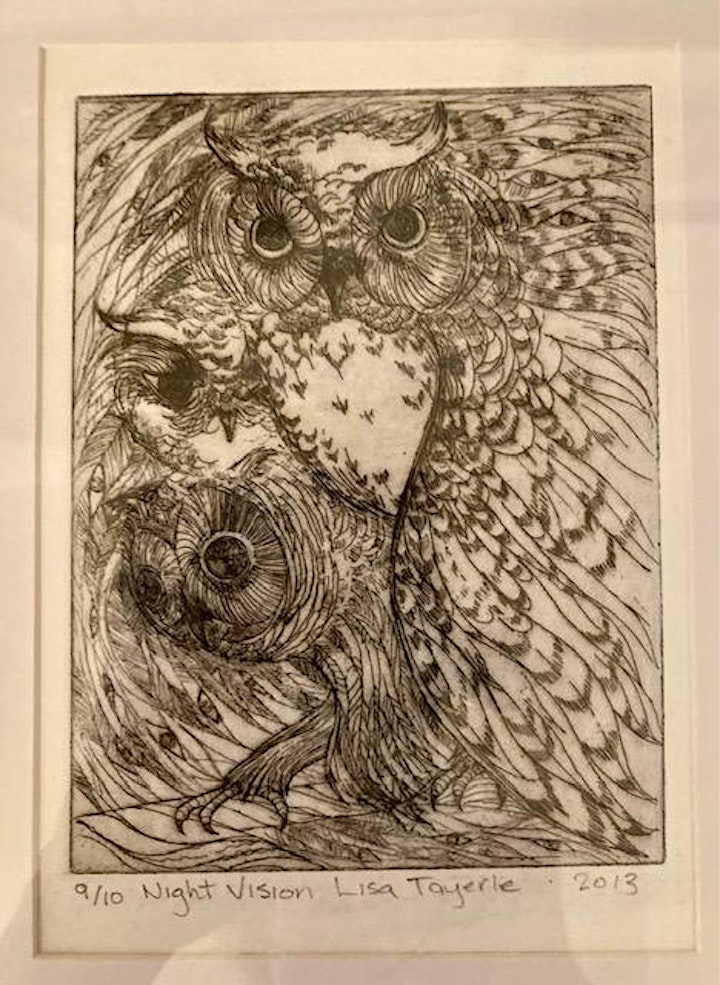 No time to view the work in person before the show? View this two-part video walkthrough to get a taste of what will be available at the auction.
Should you have trouble signing up to attend this event, you are welcome to pay $15 through the PayPal Donate button here: www.foxhavenfarm.org/donate
Cash donations at the door are also welcome.
Refund Policy
·   All class ticket sales are considered a donation to Fox Haven and help us to fulfill our mission. Full refunds (minus a 20% processing fee) will be given to any participant canceling at least 30 days prior to the scheduled class date. Due to the nature of full series commitments, no refunds will be processed once the series has started.
·   Enrollment cannot be transferred to another class. If you are within the 30-day cancellation period, it is best to request a refund and sign up for the desired replacement.
About LandBack Tax
Beginning in 2022, Fox Haven will pay $2 from every ticket sale to the Piscataway Land Trust as a LandBack tax for the land Fox Haven inhabits. Land taxes to indigenous nations function similarly to paying rent or a home mortgage. Payments such as a mortgage provide access to living space, whereas LandBack taxes recognize our access to stolen Indigenous land.
 The Piscataway Land Trust is a long-term Indigenous-led effort led by the 501(c)(3) Cedarville Band of Piscataway Indians Inc. to restore and rematriate ancestral land and sovereignty in the Chesapeake region to Piscataway and other Chesapeake Indigenous people. To learn more or pay land tax, visit: www.piscatawayindians.com/projects
Weather Policy
In the event that inclement weather is predicted ahead of an event, you will receive 48 hours' notice of cancellation or rescheduling. Otherwise, the event is assumed to be rain or shine. An alternative location may be provided if shelter is needed. We do not offer refunds for postponed events or no-shows. However, if Fox Haven cancels, a full refund will be issued.