COVID Protocol
Please do not come to class if you are feeling ill or have been exposed to people in your life who are sick. Please contact alecks@foxhavenfarm.org so we can discuss how to handle your absence.
With the new variant spreading rapidly, we ask all participants to wear a mask both indoors and outdoors. Please do your best to keep 6 feet social distance at all times. If you learn that you have COVID within 5 days after class, we ask that your please notify us so that we can inform participants about a possible exposure. 
---
Fungus Among Us: Mushroom Foraging Lessons with BaltiSpore [SOLD OUT]
March 5 @ 1:00 pm

-

3:00 pm

$260.00
Are you fascinated by the mysterious world of fungi? Join us for a series that will have you thinking like a mycologist in order to confidently identify mushrooms in the wild. You'll learn key identification skills and concepts, including must-know ID tools needed to accurately classify edible mushrooms from their toxic look-a-likes, as well as how to use a field guide and practice safe and sound foraging techniques. Then, you'll learn how to grow your own mushrooms, and make your way to the kitchen to cook and tincture our newfound fungi.
By the end of the full series, participants will:
→ Understand how to read and use a variety of guidebooks among other ID tools
→ Identify trees and common places to find wild edible mushrooms seasonally
→ Feel confident in your ability to follow foraging safety precautions
→ Be able to cook and tincture edible mushrooms
March 5th from 1-3 pm: Introduction to Fungi (ID Tools & Safety) Foraging for wild food is a great way to experience the natural world, but it is essential to learn how to do so safely. In this class, you'll receive an overview of our top five seasonal wild edibles as a segway into learning the anatomy of mushrooms and foraging safety. You'll also receive hands-on experience navigating a guidebook to identify mushrooms & learn how to properly conduct research for positive identification.
April 2nd from 1-3 pm: Cooking Wild Edibles Learn to cook gourmet mushrooms using farm-fresh ingredients from BaltiSpore's mushroom farm based out of Ijamsville, Maryland. This course will explore cooking "crab" cakes from lions mane mushroom with a side of lemon and herb pasta using oyster mushrooms.
May 7th from 1-3 pm: Look-A-Likes & Mushroom Toxicity The ability to identify wild edibles is fun, but the knowledge of what toxic species exist in the area is essential. In this class, we'll cover ID features of some of the deadliest mushrooms in our area and look-a-likes that can easily be misidentified with an untrained eye. We'll also cover what to do if you accidentally consume a toxic mushroom and what precautions you can take to avoid fatal injury.
September 3rd from 1-3 pm: Tree ID for Mushroom Hunters If there's one skill that can improve your foraging yield, it's tree ID. In this class, we'll walk the land, identifying common trees that every mushroom hunter should learn. We'll also talk about decomposing matter and how that presents an opportunity for mushrooms to flourish.
October 1st from 1-3 pm: Making Mushroom Tinctures One of the biggest advantages of mushroom tinctures is that they have a longer shelf-life than storing fresh mushrooms. In this class, you'll learn the process of double extraction and try your hand at making your very own mushroom tincture to take home.
November 5th from 1-3 pm: Growing Mushrooms You too can grow mushrooms at home. It's easier than you think! Harriet of BaltiSpore will walk you through their process of growing mushrooms step-by-step. Plus, you'll receive spawn to start growing your own mushrooms at home.
Bonus!
+All participants who sign up for this series will receive a free virtual class: Ethics of Foraging led by Lacey Walker & Taylor Roman on Fox Haven. We highly recommend you watch this before the first Fungus Among Us class to learn important safety tools and the importance of reciprocity from a forager's perspective.
+Mushroom Foray Pop-ups will be held seasonally to gain experience foraging and identifying mushrooms on the land at Fox Haven. Dates and times may vary to align class time after a heavy rainfall–the perfect conditions for mushrooms! Participants will be notified by email when the pop-ups are scheduled. Tickets sold separately.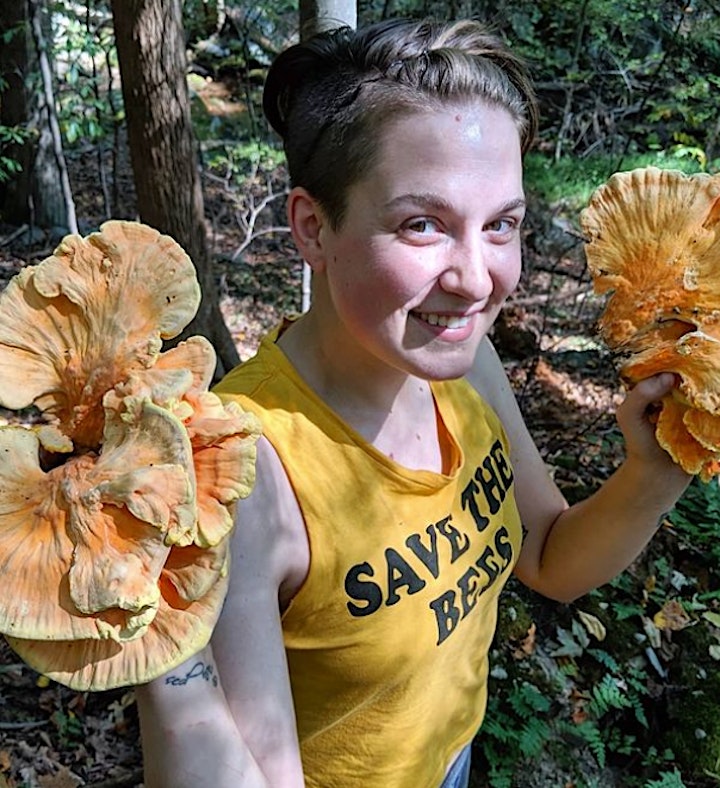 Meet your teacher, Harriet!
Harriet is one of the founders of Baltispore. They have a background in agriculture, IPM, and greenhouse growing. Harriet first got into mushrooms when they realized all of the potential medicinal effects they hold. When they're not growing mushrooms and running markets for BaltiSpore they can be found foraging, skating with their local roller derby league, or gardening.
Refund Policy
All class ticket sales are considered a donation to Fox Haven and help us to fulfill our mission. Full refunds (minus a 20% processing fee) will be given to any participant canceling at least 30 days prior to the scheduled class date. Due to the nature of full series commitments, no refunds will be processed once the series has started.
Enrollment cannot be transferred to another class. If you are within the 30-day cancellation period, it is best to request a refund and sign up for the desired replacement.
About LandBack Tax
Beginning in 2022, Fox Haven will pay $2 from every ticket sale to the Piscataway Land Trust as a LandBack tax for the land Fox Haven inhabits. Land taxes to indigenous nations function similarly to paying rent or a home mortgage. Payments such as a mortgage provide access to living space, whereas LandBack taxes recognize our access to stolen Indigenous land.
The Piscataway Land Trust is a long-term Indigenous-led effort led by the 501(c)(3) Cedarville Band of Piscataway Indians Inc. to restore and rematriate ancestral land and sovereignty in the Chesapeake region to Piscataway and other Chesapeake Indigenous people. To learn more or pay land tax, visit: https://www.piscatawayindians.com/projects