COVID Protocol
Please do not come to class if you are feeling ill or have been exposed to people in your life who are sick. Please contact alecks@foxhavenfarm.org so we can discuss how to handle your absence.
Masks are optional during outdoor events. We will maintain 6 feet social distance at all times. If you are not vaccinated, we request that you please wear a mask during outdoor events. Everyone is required to wear masks indoors. If you learn that you have COVID within 5 days after class, we ask that you please notify us so that we can inform participants about possible exposure.
---
Moving into the New Year with Mindfulness with Jasmyn James [ONLINE]
January 15 @ 10:00 am

-

11:30 am
In this workshop, Jasmyn will be discussing the 10 attitudes of Healing Presence, the importance of Self-Compassion, Mindfulness practices and how they can be useful in our everyday lives going into this new year. She will be sharing personal experiences with her mindfulness journey and herbs for mental wellness. We will be closing out with an intention set guided meditation. Make sure you bring a journal and a pen for some journaling activities during the workshop. Hope to see you there!
Proceeds from ticket sales will support Fox Haven's BIPOC Scholarship Program. This offering is a way for Fox Haven to acknowledge the structures of privilege that undermine the wellness of black and brown-skinned people, and to create opportunities for people to heal and thrive.
If you identify as BIPOC and are interested in receiving discounts on classes, rentals, or retreats, please fill out our interest form here.
This event will be recorded and sent out to all registrants after class.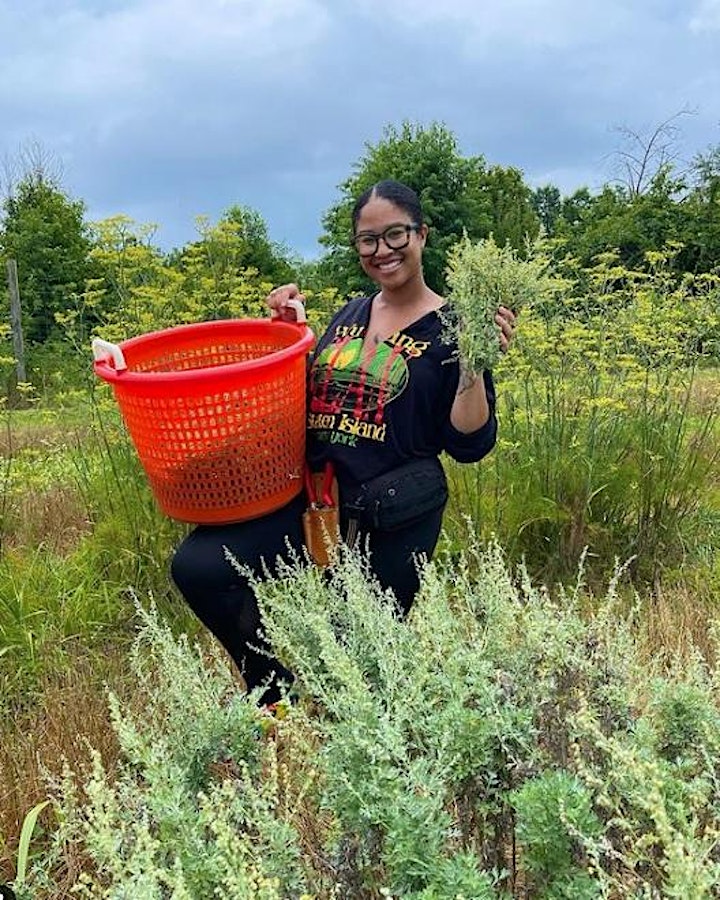 About your Instructor
Jasmyn James is the founder and creatrix behind RUJA Holistick, a holistic spiritual and energetic healing brand for Black Indigenous People of Color (BIPOC). RU
JA Holistick uses therapeutic holism practices including health and wellness coaching, evidence-based psychology techniques, and meditative healing while providing spiritual advisement and healing through sounds, herbs, and other healing rituals that are native to the African-American and Buddhist spiritual practices.
RUJA Holistick addresses the following problem: BIPOC rarely have access to resources that will aid their mental, physical and spiritual wellness collectively. Oftentimes, we are overlooked and disregarded in terms of accessibility and having the means to provide these healing resources to ourselves and our families. Because of this factor, BIPOC have been taught to suffer in silence for generations. RUJA Holistick provides a safe space for our clients to learn, practice and experience the world of healing of the whole self. We guide our clients through their own healing, assisting them in feeling safe within themselves while also giving them the tools and resources to process their healing individually. Our goal is that each client leaves our services with a tool that they can take into their everyday life for optimum healing results.
Refund Policy
·   All class ticket sales are considered a donation to Fox Haven and help us to fulfill our mission. Full refunds (minus a 20% processing fee) will be given to any participant canceling at least 30 days prior to the scheduled class date. Due to the nature of full series commitments, no refunds will be processed once the series has started.
·   Enrollment cannot be transferred to another class. If you are within the 30-day cancellation period, it is best to request a refund and sign up for the desired replacement.
About LandBack Tax
Beginning in 2022, Fox Haven will pay $2 from every ticket sale to the Piscataway Land Trust as a LandBack tax for the land Fox Haven inhabits. Land taxes to indigenous nations function similarly to paying rent or a home mortgage. Payments such as a mortgage provide access to living space, whereas LandBack taxes recognize our access to stolen Indigenous land.
 The Piscataway Land Trust is a long-term Indigenous-led effort led by the 501(c)(3) Cedarville Band of Piscataway Indians Inc. to restore and rematriate ancestral land and sovereignty in the Chesapeake region to Piscataway and other Chesapeake Indigenous people. To learn more or pay land tax, visit: www.piscatawayindians.com/projects
Weather Policy
In the event that inclement weather is predicted ahead of an event, you will receive 48 hours' notice of cancellation or rescheduling. Otherwise, the event is assumed to be rain or shine. An alternative location may be provided if shelter is needed. We do not offer refunds for postponed events or no-shows. However, if Fox Haven cancels, a full refund will be issued.