COVID Protocol
Please do not come to class if you are feeling ill or have been exposed to others who are sick. Please contact alecks@foxhavenfarm.org so we can discuss how to handle your absence.
Masks are optional during all events. If you learn that you have COVID within 5 days after class, we ask that you please notify us so that we can inform participants about possible exposure.
---
Welcome to the Wilderness Series with Jason Drevenak [AM Session] [SOLD OUT]
January 15, 2022 @ 9:00 am

-

12:00 pm
"In today's times, we may have smartphones and like refrigeration, but I also feel strongly that technologies of the past have a great deal to teach us about connection, and about meaningful, purposeful ways of life. We should know how to make and find food; we should be able to find water and shelter anywhere we go; we should be able to make the things we need even if we don't always do it. These skills help us to understand the impact of our lives on others". –Jason Drevenak
In partnership with Jason Drevenak, Fox Haven is excited to offer Welcome to the Wilderness, a winter series that will explore the concept of how to build a healthy, fulfilling, and ethical relationship with the world outdoors. Participants will become intimately familiar with the Fundamental 5: shelter, fire, water & food, navigation/ signaling. We'll spend each month practicing vital outdoor skills like sharpening cutting tools, building a fire, constructing natural and synthetic shelters, and identifying edible, herbal, and useful plants in the wilderness. We will also discuss the importance of topics like thermoregulation, wilderness first aid, water purification, and rescue signaling.
The AM session classes will take place on the third Saturday of each month, January-April from 9AM-12PM (January 15th, February 19th, March 19th, April 16th).
This is an entry-level series is designed to be fun and attainable for anyone who enjoys the outdoors (minimal physical activity required). If you have ever wondered what skills and tools are needed to thrive in the wilderness, this series is for you!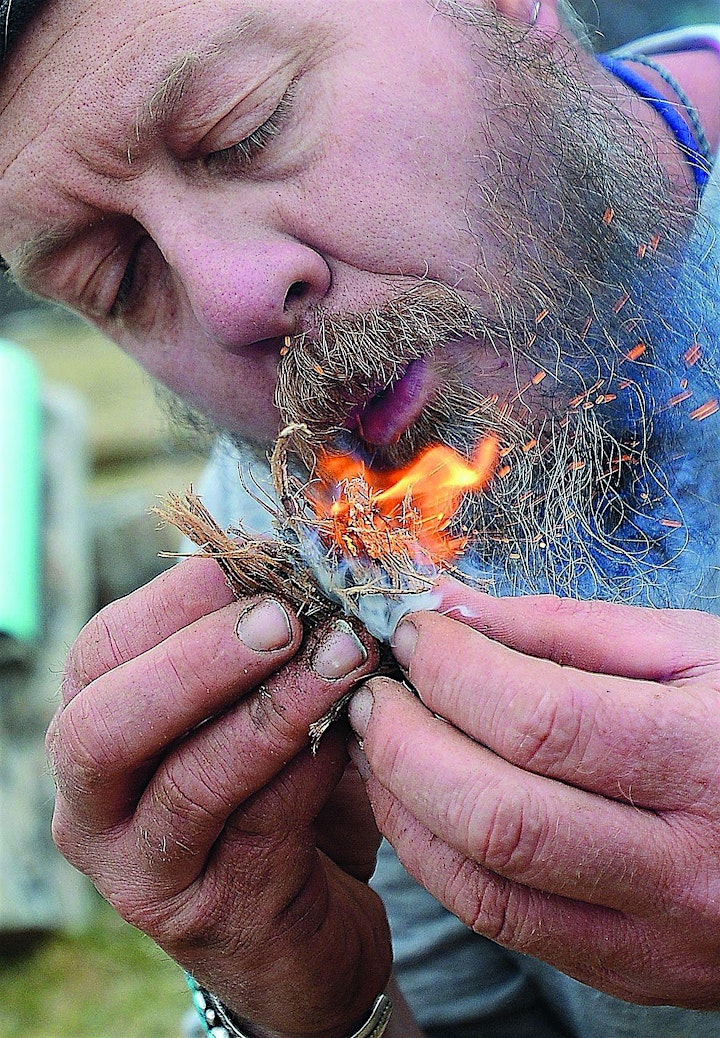 Meet our new teacher, Jason Drevenak!
Jason grew up on his family's homestead in West Virginia hunting, fishing, hiking, building shelters and making tools. After serving as a medic in the Army and subsequently returning to college, he made a career of teaching people how to engage with the outdoors through various businesses. As an established teacher and founder of the North American Bushcraft School, Jason is setting new roots here in Maryland and West Virginia!
Cost: $140 for full series
Refund Policy
·   All class ticket sales are considered a donation to Fox Haven and help us to fulfill our mission. Full refunds (minus a 20% processing fee) will be given to any participant canceling at least 30 days prior to the scheduled class date. Due to the nature of full series commitments, no refunds will be processed once the series has started.
·   Enrollment cannot be transferred to another class. If you are within the 30-day cancellation period, it is best to request a refund and sign up for the desired replacement.
About LandBack Tax
Beginning in 2022, Fox Haven will pay $2 from every ticket sale to the Piscataway Land Trust as a LandBack tax for the land Fox Haven inhabits. Land taxes to indigenous nations function similarly to paying rent or a home mortgage. Payments such as a mortgage provide access to living space, whereas LandBack taxes recognize our access to stolen Indigenous land.
 The Piscataway Land Trust is a long-term Indigenous-led effort led by the 501(c)(3) Cedarville Band of Piscataway Indians Inc. to restore and rematriate ancestral land and sovereignty in the Chesapeake region to Piscataway and other Chesapeake Indigenous people. To learn more or pay land tax, visit: www.piscatawayindians.com/projects
Weather Policy
In the event that inclement weather is predicted ahead of an event, you will receive 48 hours' notice of cancellation or rescheduling. Otherwise, the event is assumed to be rain or shine. An alternative location may be provided if shelter is needed. We do not offer refunds for postponed events or no-shows. However, if Fox Haven cancels, a full refund will be issued.