Refund Policy
·   All class ticket sales are considered a donation to Fox Haven and help us to fulfill our mission. Full refunds (minus a 20% processing fee) will be given to any participant canceling at least 30 days prior to the scheduled class date. Due to the nature of full series commitments, no refunds will be processed once the series has started.
·   Enrollment cannot be transferred to another class. If you are within the 30-day cancellation period, it is best to request a refund and sign up for the desired replacement.
---
Winter Dried Herb CSA [ONLINE]
January 20, 2024 @ 9:00 am

-

10:30 am

$200.00 - $268.00
Fox Haven will be offering a Dried Herbs CSA to keep you well-nourished during the winter months.
Our Fresh Herb CSA may be at the end of its season, but the herbal fun doesn't have to stop now! Fox Haven's third annual Dried Herb CSA will keep you well-nourished during the winter months.
This CSA runs from January through April with online classes every third Saturday from 9 am-10:30 am on Zoom. Classes are on January 20th, February 17th, March 16th, and April 20th and will be recorded.
The Dried Herb CSA is appropriate for beginners and intermediate herb enthusiasts and includes a monthly digital study guide with recipes and herb profiles, 5 herbal preparations per month, and a 1.5-hour live Zoom class each month to learn how to prepare your herbs and explore concepts together.
Some blends we're excited to have in the Winter CSA include: Calendula Sage Mouthwash, Mullen and Linden Lung Tea, Hibiscus Rose Cordial, Chaga Ashwagnahda Chai, Fig, Spicebush, Ginger and Turmeric Cookie Spice, Nettle Burdock Bread Broth, After-Ivy Chickweed Salve, Soothing Licorice Syrup, Rose and Sage Pastilles, and Thai Lemongrass Soup
A one-time pick-up for all 4 months is available at Fox Haven in Frederick, and at partner locations in Baltimore and Tacoma Park. If an in-person pickup isn't possible, we can also ship the share anywhere in the country (shipping not included).
In class you'll have the opportunity to explore:
-Herbal Tea & Hot Cocoa Blends-Cordials, Syrups, and Tinctures
-Herbal Salts, Seasoning & Broth
-DIY Salves and Soaks
-Baking with Herbs (Herbal Spice Cookies and Savory Spice Blends)
Price: $268
PAYMENT PLANS ARE AVAILABLE! Please email alecks@foxhavenfarm.org to request a payment plan
Black, Indigenous, People of Color (BIPOC) Price: $200
*Please note, growing and processing dried herbs involves the labor of a long harvest season, drying, and storing throughout the year. Our cost reflects the value of the herbs in addition to the educational offerings we provide.
*About BIPOC Pricing: In acknowledgment of the fatal injustices committed upon the black and brown community and the health toll this continues to take on folks, we are offering a discount to our herbal CSA for any BIPOC folk who would like it. This offering is meant to be a step we can take at Fox Haven to be an active agent in your healing and thriving, and an acknowledgment of the structures of privilege that seek to undermine that wellness.
*The Winter CSA is limited to 30 participants. If you're interested in joining, sign up as soon as you can!
—
Pick-up Location Address & Directions :
Little Red Bird Apothecary (Tacoma Park): 416 Aspen St NW. Washington DC 20012.
Pick-up Date: TBD
Important, please use these directions! The apothecary is located on 5th St, just south of Aspen St NW, in the white garage (east side of the street). Technically the address is 416 Aspen St NW, but PLEASE don't come to the house, just access the apothecary via the 5th St driveway.
Baltimore Pick-up Date & Location to be determined
Fox Haven Farm (Frederick & surrounding areas): 3630 Poffenberger Rd. Jefferson MD, 21755
Pick-up Dates: January 6th – 20th (must communicate with Lacey to determine your pick-up date)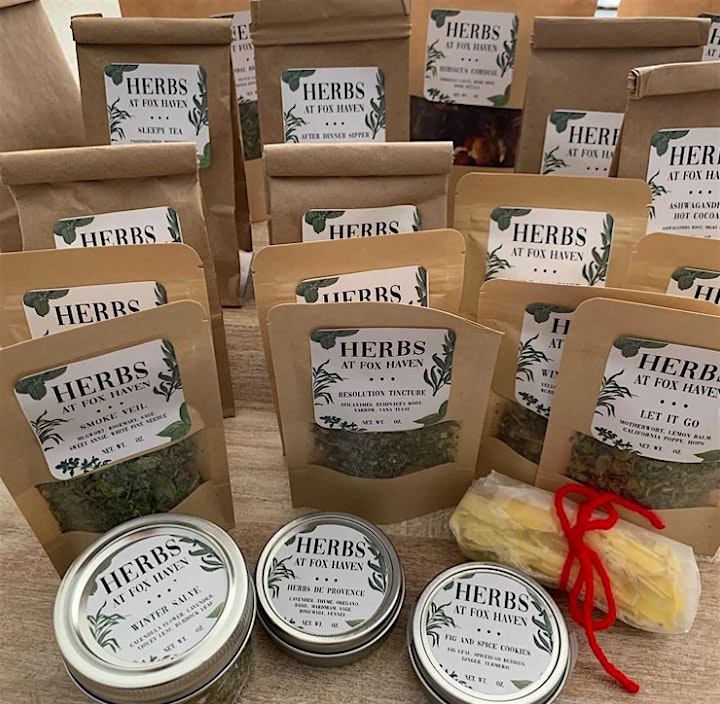 Example of what you will receive in the Winter CSA, some products may be subject to change.
About LandBack Tax
Beginning in 2022, Fox Haven will pay $2 from every ticket sale to the Piscataway Land Trust as a LandBack tax for the land Fox Haven inhabits. Land taxes to indigenous nations function similarly to paying rent or a home mortgage. Payments such as a mortgage provide access to living space, whereas LandBack taxes recognize our access to stolen Indigenous land.
 The Piscataway Land Trust is a long-term Indigenous-led effort led by the 501(c)(3) Cedarville Band of Piscataway Indians Inc. to restore and rematriate ancestral land and sovereignty in the Chesapeake region to Piscataway and other Chesapeake Indigenous people. To learn more or pay land tax, visit: www.piscatawayindians.com/projects
Weather Policy
In the event that inclement weather is predicted ahead of an event, you will receive 48 hours' notice of cancellation or rescheduling. Otherwise, the event is assumed to be rain or shine. An alternative location may be provided if shelter is needed. We do not offer refunds for postponed events or no-shows. However, if Fox Haven cancels, a full refund will be issued.

COVID Protocol
Please do not come to class if you are feeling ill or have been exposed to others who are sick. Please contact alecks@foxhavenfarm.org so we can discuss how to handle your absence.
Masks are optional during all events. If you learn that you have COVID within 5 days after class, we ask that you please notify us so that we can inform participants about possible exposure.